Salmon and Sweet Potato

PERi-PERi Fishcakes
Prep: 5mins

Cook: 1hr 15mins
Still just using PERi-PERi sauce with chicken? Yogurt to be kidding! With this salmon and sweet potato recipe, getting adventurous really is a piece of cake.
INGREDIENTS
FOR THE FISHCAKES::
50ml PERi-PERi sauce (choose your flavour)
1 large Sweet Potato
2 fillets of Salmon (skin removed)
Large pinch of freshly chopped Coriander
50g dried Breadcrumbs
75g Crushed Plain Chips
FOR THE PERi YOGURT::
50ml PERi-PERi sauce (choose your flavour)
200g full fat Greek Yogurt
METHOD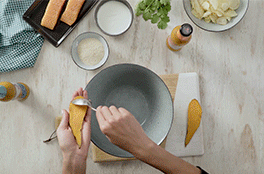 Step 1
Preheat the oven to 200°c. Prick sweet potato with a fork and bake for 30 mins or until tender. Cut in half length-ways and allow to cool. Skin and then mash.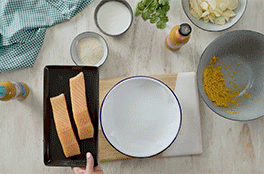 Step 2
Place salmon on lined baking tray, pop in oven and cook for 10-12 minutes.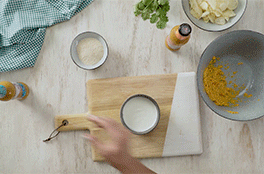 Step 3
Meanwhile, make PERi-yogurt by combining the full fat Greek yogurt with PERi-PERi sauce.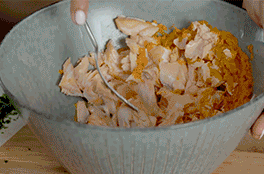 Step 4
Flake salmon into a bowl and mix with sweet potato. Mix with PERi-PERi sauce, coriander and breadcrumbs and then shape into 4 fishcakes.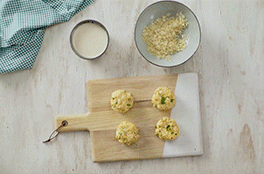 Step 5
Coat in crushed chippies (make sure you really press them on)!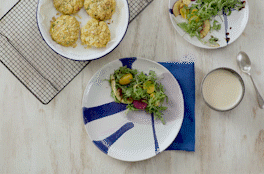 Step 6
Put fishcakes onto oiled baking tray and cook for 15-20 minutes, and flip halfway through. Serve on top of a side salad (or with chips if you prefer!).