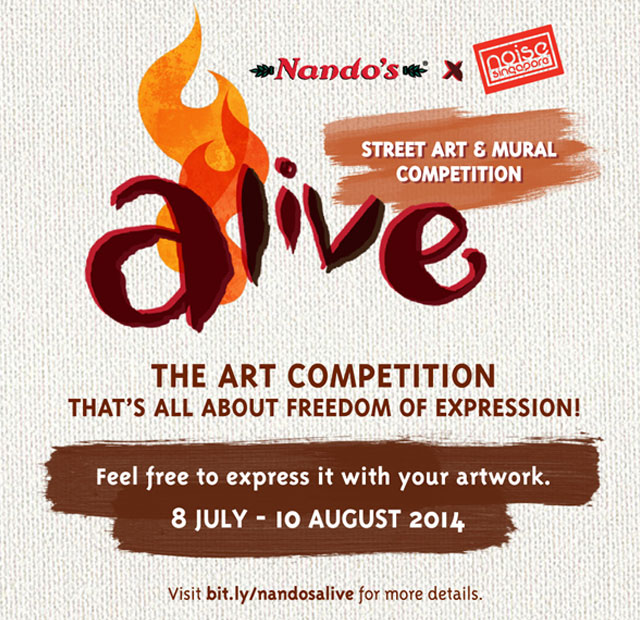 Grab the chance to create a piece of live art and win prizes
The art competition that's all about freedom of expression – Nando's together with Noise Singapore brings to you the ALIVE Street Art & Mural Competition with the aim of showcasing Singaporean talents by giving them a platform to express themselves freely to Singapore, and even the world! Show us your interpretation of ALIVE today!
Submit your entry from 8 July – 10 August 2014.
Show us your interpretation of ALIVE! Submit an artwork that best interprets this theme, and you could be shortlisted to recreate this artwork in life size form for the finals, and also win some great prizes!
Visit www.noisesingapore.com or bit.ly/nandosalive for more details.
*This art competition is open to any Singaporean / PR below 35 years old. The artwork must be original, unpublished and produced by the participant. All submissions must be received by 10 August 2014 – a full list of the T&Cs can be found in the registration form here: http://bit.ly/1r59bLw
FINAL JUDGING & PRIZE GIVING
6 finalists will be shortlisted and notified by phone, SMS, and/or email by 15 August 2014.
Finalists will be mentored by renowned local industry artists – Clogtwo, SLACSATU and TraseOne in preparation for final judging day.
Finalists will be required to produce their artwork on an estimated 5ft x 5ft wall panel live on the final judging day.
Details of the final judging and prize-giving ceremony will be communicated to the finalists by phone and/or email.
JUDGING
Entries will be judged based on the following:
Overall impression

Interpretation of the theme ALIVE

Originality and creativity

Quality of design and composition

Use of medium / artistic finish
PRIZES
We've got amazing prizes that'll make you feel alive!
Grand Prize: $3,000 cash and $500 worth of Nando's vouchers
1st Runner Up: $2,000 cash and $500 worth of Nando's vouchers
2nd Runner Up: $1,000 cash and $500 worth of Nando's vouchers
Consolation Prize x 3: $500 worth of Nando's vouchers each
IMPORTANT DATES
Competition period: 8 July – September 2014
Last date of entry submission: 10 August 2014
Final judging day and prize-giving ceremony: September 2014