A letter to our extended families – that's you.
At Nando's, protecting the health and safety of both our families and yours has always been our top priority. To break the circuit and stand #SGUnited in our fight against Covid-19, our dine-in service is closed as of 7 April 2020 till further notice.
Craving PERi-PERi Chicken? We still got your backs and bellies covered! Our grills continue to be fired up for takeaway and delivery at all our restaurants.
All our restaurants are open for takeaway and delivery from 11am to 10pm daily:
Bugis Junction #01-85
Tanglin Mall #01-14
Plaza Singapura #04-10
Tampines Mall #01-46
The Star Vista #B1-09
NEX #B1-41
HOW TO ORDER:
To get your PERi-PERi fix, order via order.nandos.com.sg and we encourage you to place your takeaway order before you leave home. So when you get to our doors, your order is already ready to take it home. This way, you can make it a quickie while staying safe!
When you arrive to pick-up your takeaway, we offer a contactless collection process. Our Nandocas will facilitate your collection at the door, and we seek your cooperation to adhere to the safe distances that will be marked out. You'd also receive a SMS when your takeaway is ready, so you won't have to wait at our doors – we'll see you when it's ready!
Alternatively, our delivery partners – Deliveroo, FoodPanda, and GrabFood – are still being the superheroes who can bring our PERi-PERi Chicken to your homes. Please check our partners' websites or mobile apps for our delivery area coverage.
Meanwhile, stay safe, stay home, and stay strong – till we see you again!
Xoxo with virtual hugs and kisses,
from all of Nando's Singapore team
Got hot and burning questions?
Can I dine-in?
No, our dine-in service is suspended from 7 April to 1 June 2020 as advised by the nation in our #SGUnited fight against Covid-19. We are still open for takeaway and delivery via our delivery partners.
How can I order takeaway?
We strongly encourage ordering online at order.nandos.com.sg and confirming your order before you leave home. This way, we will have your PERi-PERi fix prepared just in time for your arrival and you will not need to wait at our doors.
You can select your collection anytime within the same day (e.g. you can start placing your order at 11am for pickup at 6pm for dinner). We prepare all orders according to pick-up time, so your PERi-PERi fix will still be freshly prepared – no worries about that!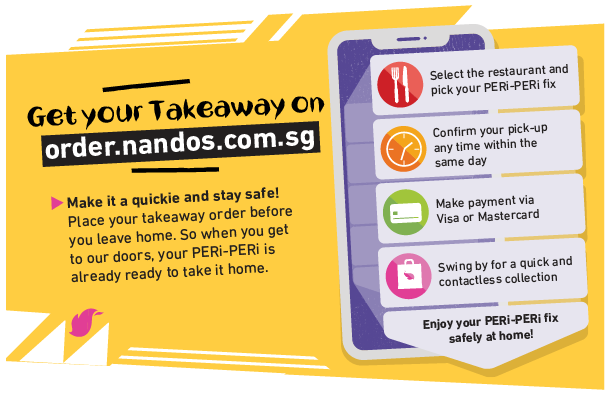 Alternatively, you may still walk-in to our restaurant to place your takeaway order. To order at the cashier, please adhere to our safety measures – including a temperature screening and hand sanitising before you enter, and a maximum of 2 guests within the restaurant at any time. We would also encourage cashless payments. Seriously, it's safer, easier, and faster to order online!
Is the Takeaway Menu same as the usual Dine-in?
With takeaway and delivery only, some of our menu items are temporarily unavailable. Please see here for our menu or check out the menu directly on our ordering site at order.nandos.com.sg.
We've kept all the hot favourites available, but if any of your favourites have gone missing, we apologise for the inconvenience caused – hang in there; we'll be back as soon as the situation recovers!
How safe is collection when I arrive?
We aim to make all collections for takeaway and delivery as contactless as possible.
Safe distances will be marked out, and we seek your cooperation to adhere to them.
To avoid crowding, all online orders will receive a SMS notifying you when your takeaway is ready for collection. So you may space out until it's your turn to come to our doors.
All bags will be sealed at the kitchen to protect your food from minimal handling.
Upon collection, our team members will pass your bags to you through a table to avoid any potential contact.
Once you've got it, wave your goodbye or give our restaurant crew a thumbs up! And you're all set to head home and enjoy your PERi-PERi Chicken meal – don't forget to wash your hands!
Can I collect Chillies for takeaway? 
Yes, you can with a minimum spend of $15; max 1 Chilli per day.
Can I redeem rewards for takeaway? 
Yes, of course! You will find them available at the top banner when you order online at order.nandos.com.sg. If you're visiting our cashiers, simply scan your Member ID when ordering.
Can I collect Chillies or redeem rewards if I place my order through your delivery partners? 
We're sorry, Chilli collections and Reward redemptions are not enabled on our delivery partners app/website at the moment. 
I have rewards that will be expiring soon… What's gonna happen to them?  
Rewards are still redeemable via takeaway, but if you're not able to do so within this Circuit Breaker… no worries – we've got you covered. Take care of yourself, and we'll take care of your rewards! On 27 March, all unredeemed rewards' validity were automatically extended for 60 days. And with the extension of CB, we are planning to further extend the dates for those affected, and we'll keep members informed again.
What are the additional measures taken to ensure that the food is safe for customers?
During this period, we are taking additional measures to ensure we prepare a safe environment for everyone to transact and take home a carefully prepared Nando's meal