Not all heroes wear capes.
To the incredible Healthcare heroes working tirelessly and selflessly in stressful conditions to protect Singapore from COVID-19, we thank you.
And to those in essential services who are still out there working bravely and keeping the nation strong, we thank you, and know that we see you, we feel you, we support you.
Now more than ever, it's essential that we take care of each other – which is why Frontline Heroes get 50% off Nando's meals. That includes Healthcare superheroes who are our guardian angels. It includes F&B workers, food delivery riders, land transport drivers, grocery workers, cleaning services, and safe distancing ambassadors and enforcement officers – who are collectively ensuring we can safely get our daily meals. And it includes every Nandoca who is keeping Nando's running. Because we're not just a chicken restaurant, we're part of this community, and we're in it together. #SGUnited
Let's stay safe, stay strong, stay positive. And if your day feels long and challenging, you're always welcome to swing by our restaurants to take home a meal and power through with PERi-PERi.
This one's for the dad, the mum, the brother, the sister, the friend who's a Frontline Hero.
If you know someone, please help spread the love. 
Because even heroes can get hungry.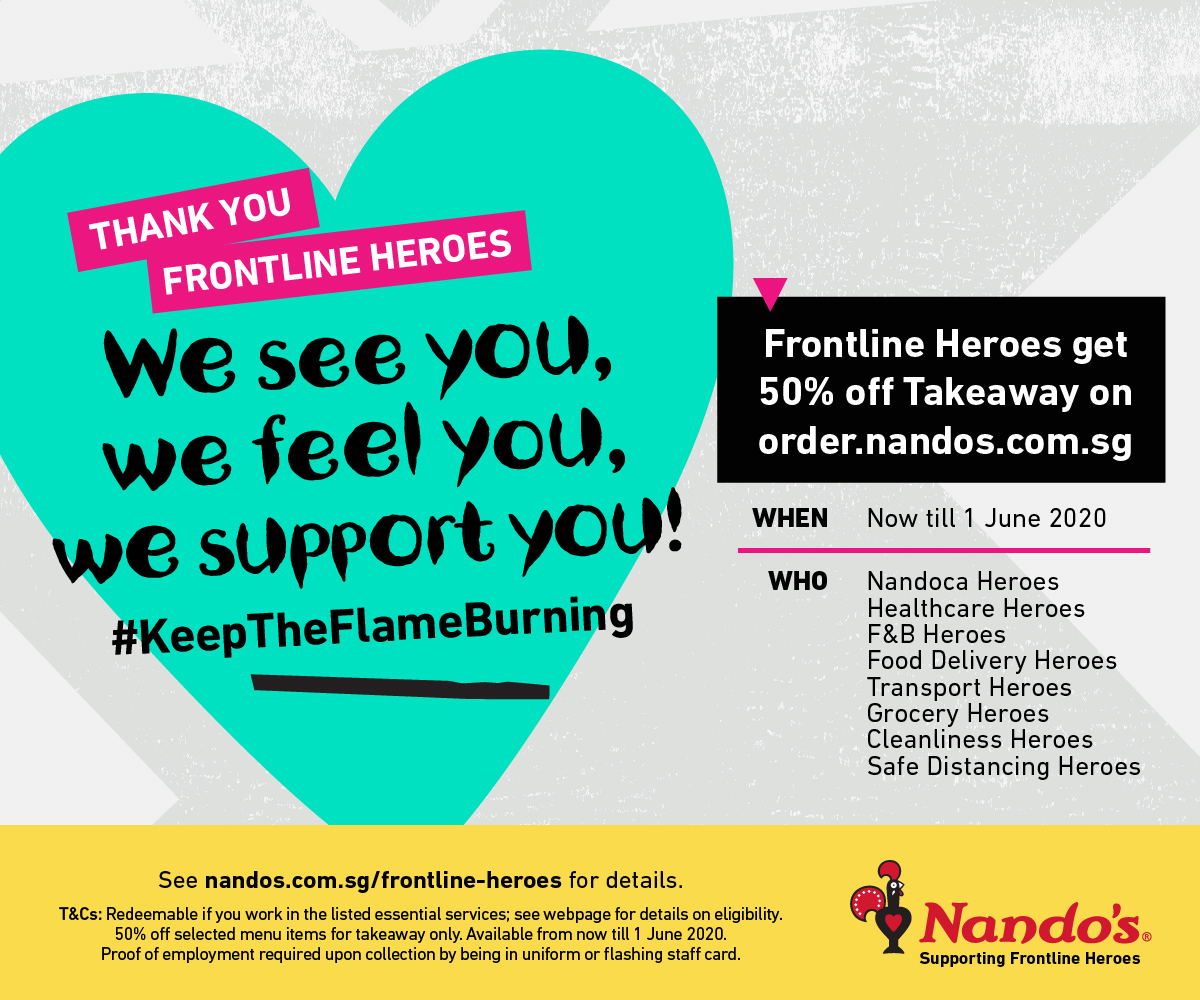 When is this available?
All eligible Frontline Heroes may redeem this every day from 13 April to 1 June 2020.
*Update: this was extended when the Circuit Breaker period was extended, and is now available to all groups of heroes every day till 1 June. 
This covers the Circuit Breaker period for now. While we don't know what comes next, we will continue to offer our support where we can, whilst always staying safe.
Who's eligible?
Healthcare Heroes:
Anyone working in the healthcare sector including hospitals, clinics, and contact tracers.
Swing by in your uniform, or flash us your staff card upon collection.
Our Nandocas:
Our team members and most beloved Frontline Heroes. Thank you for keeping our casas fired up and thank you for being the inspiration behind this initiative.
F&B Heroes:
Anyone working in Food & Beverage establishments from restaurants to hawkers.
For restaurants, swing by in your uniform, or flash us your staff card upon collection.
For hawker food stallholders and assistants, simply flash us a picture of your NEA cert or of your beautiful self working within the stall.
Food Delivery Heroes:
All riders and employees of food delivery services including Deliveroo, FoodPanda, and GrabFood.
Swing by in your uniform, or show us your rider app upon collection.
Transport Heroes:
All drivers and employees of point-to-point land transport services including buses, MRT, taxi and private hire rides.
Swing by in your uniform, or show us your vocational license or staff card upon collection.
Grocery Heroes:
Anyone working in supermarkets and grocery delivery.
Swing by in your uniform, or show us your staff card upon collection.
Cleanliness Heroes:
Anyone working in cleaning services.
Swing by in your uniform, or show us your staff pass upon collection.
Safe Distancing Heroes:
All SG Clean ambassadors, Safe Distancing Ambassadors, and Safe Distancing Enforcement Officers.
Swing by in your uniform, or show us your passes or arm bands.
Got other Frontline Heroes in mind? Or any inspirations on how we can support the community more? Drop us your ideas at peri-peri@nandos.com.sg or on social @nandossg.
I'm a Frontline Hero! How do I redeem this?
Go to order.nandos.com.sg and you'll find a dedicated section for you. Prices shown are nett after the 50% perk applied.
You'll be able to get your takeaway from all our restaurants from 11am to 10pm:
Tampines Mall #01-46
NEX #B1-41
Star Vista #B1-09
Tanglin Mall #01-14
Bugis Junction #01-85
Plaza Singapura #04-10
How do I collect my order?
When your order is ready for collection, you'll receive an SMS from us. Then, come as you are in your beautiful uniform or flash your staff card for verification.
We practice contactless collections for your safety and ours, so kindly adhere to the safety guidelines as mentioned at the door. Find out more about our safety measures here.
What can I order with Frontline Heroes 50%?
Take your pick from 3 of our hot favourite meals and choose from our 3 classic sides to accompany your main: PERi-PERi Chips, Mediterranean Rice, and Corn-on-the-Cob. A variety of canned drinks are also available to help cool things down after all the heat. Prices shown are nett after the 50% perk applied.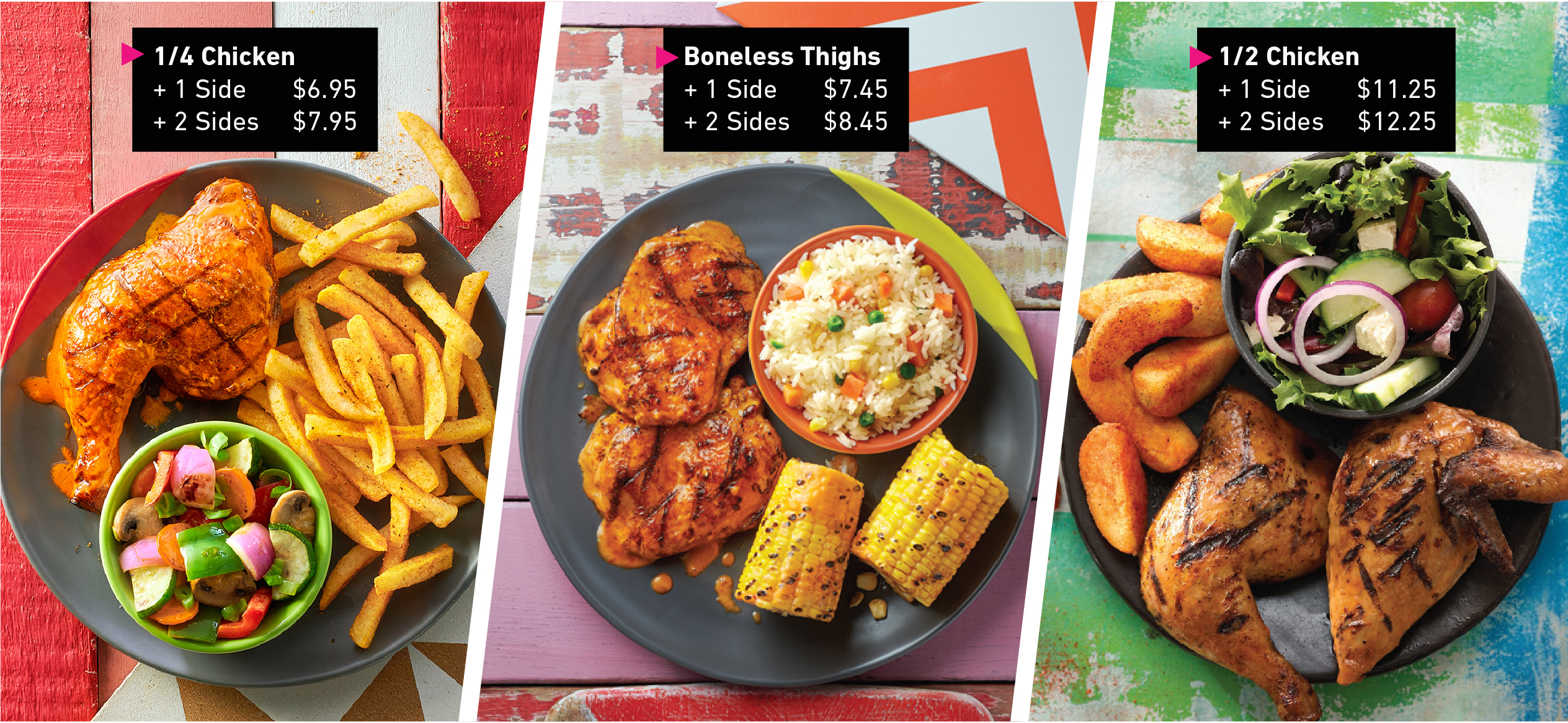 I know a Frontline Hero! How can I share this perk with them?
Help yourself to the Thank-You cards we've put together below, and don't forget to include your very own well wishes! Select a message for your Frontline Hero, and simply forward along to them via your chats, or check our social media @nandossg on Facebook, Instagram, and Twitter where the cards are available for you to easily tag and share.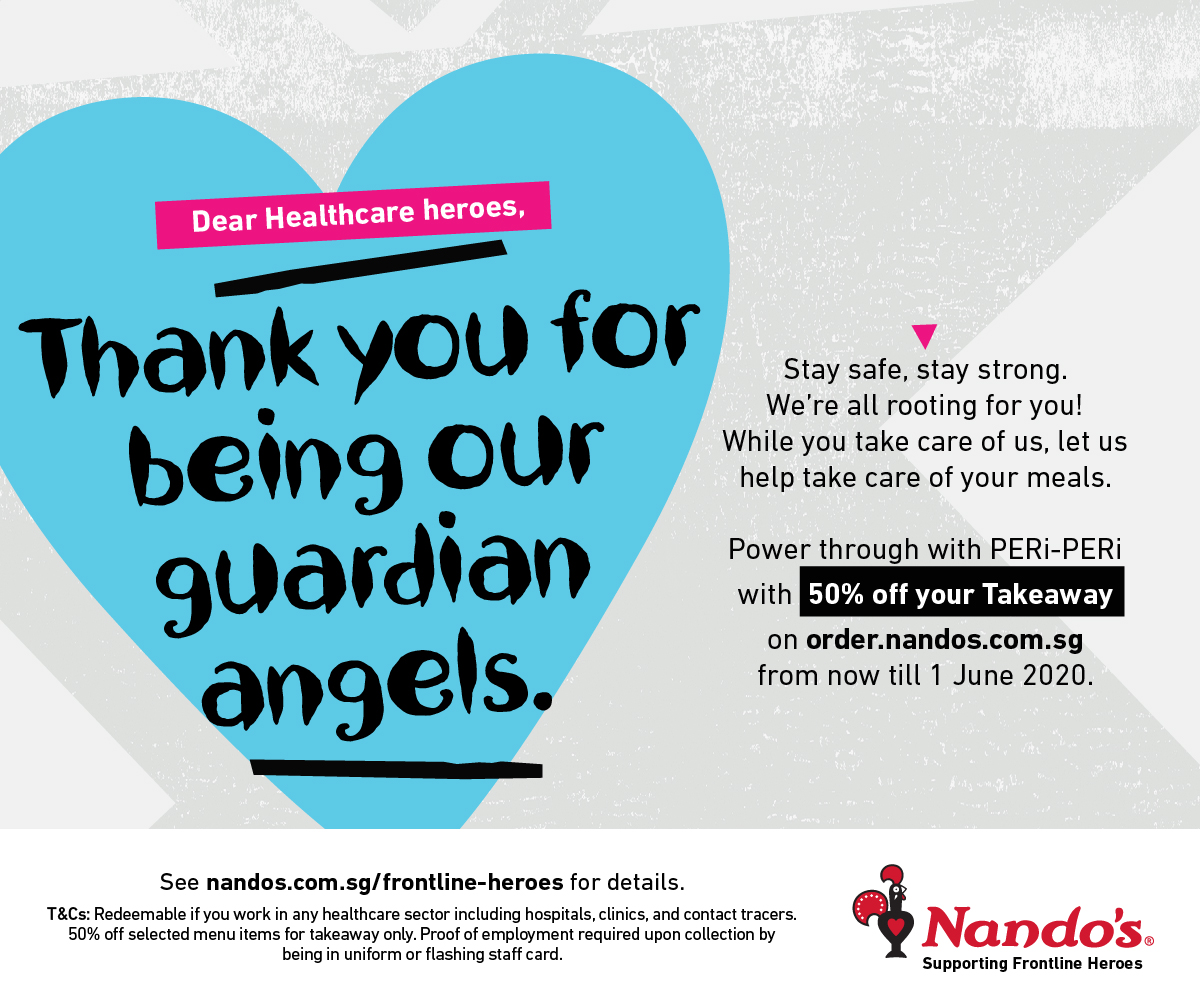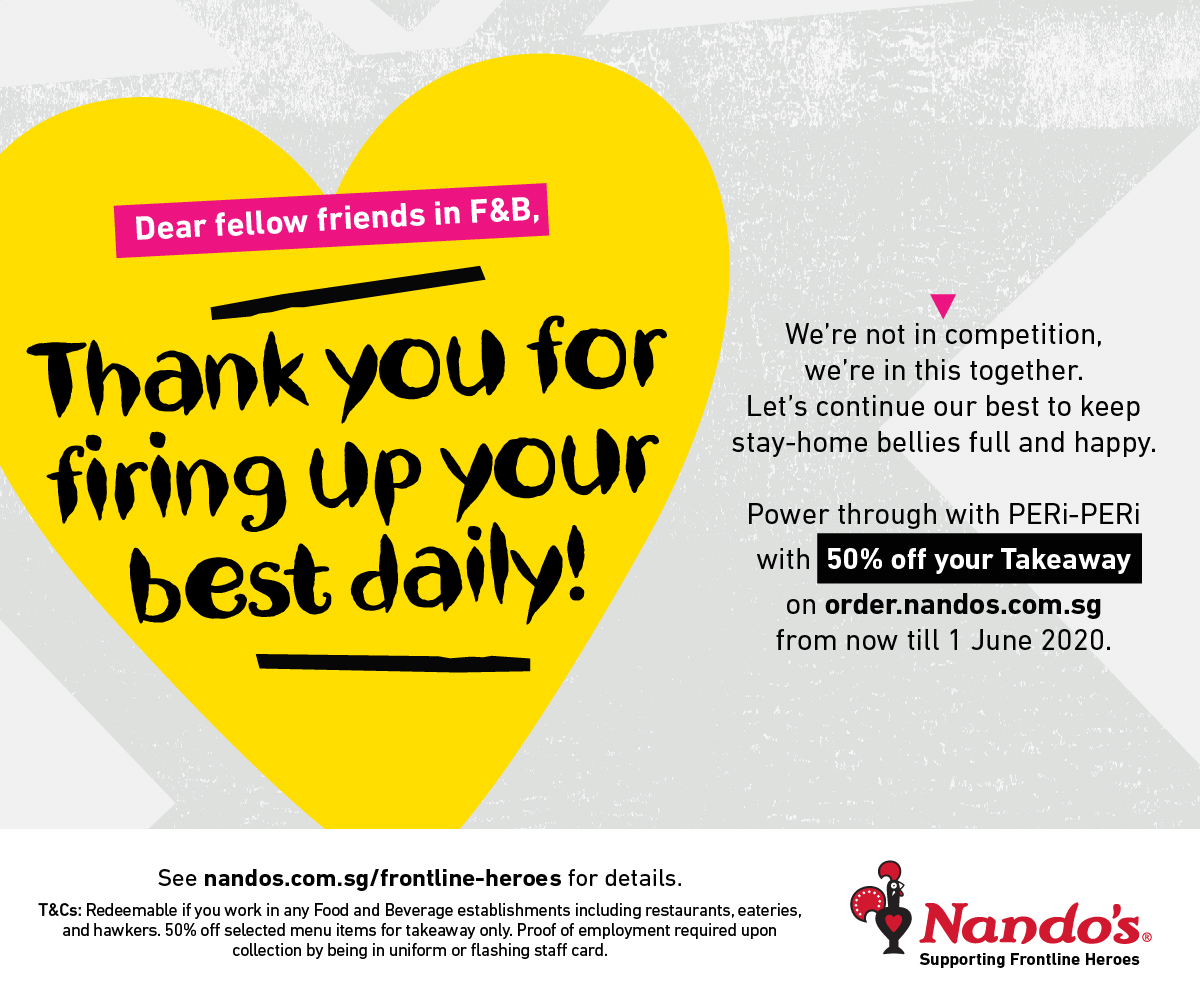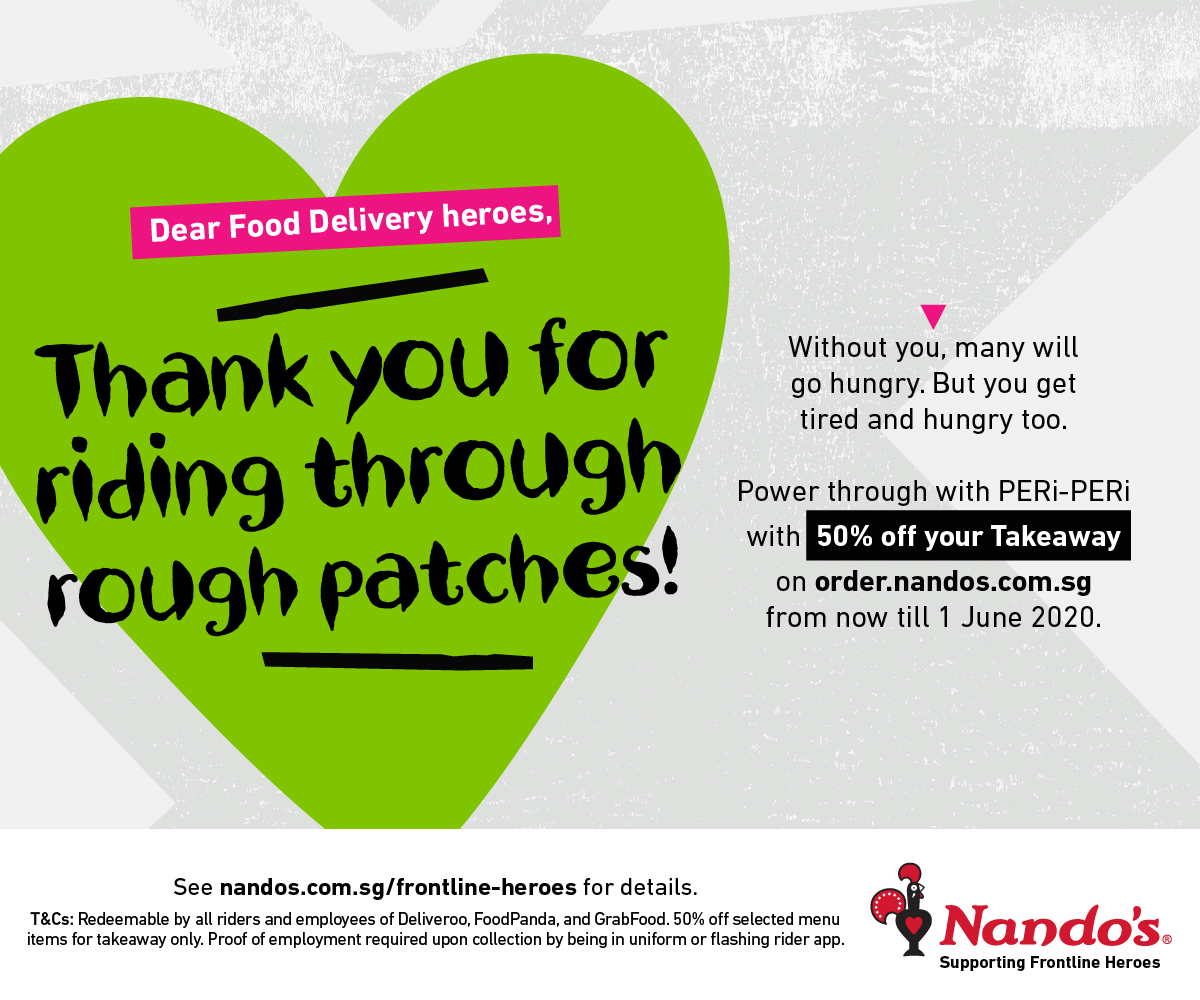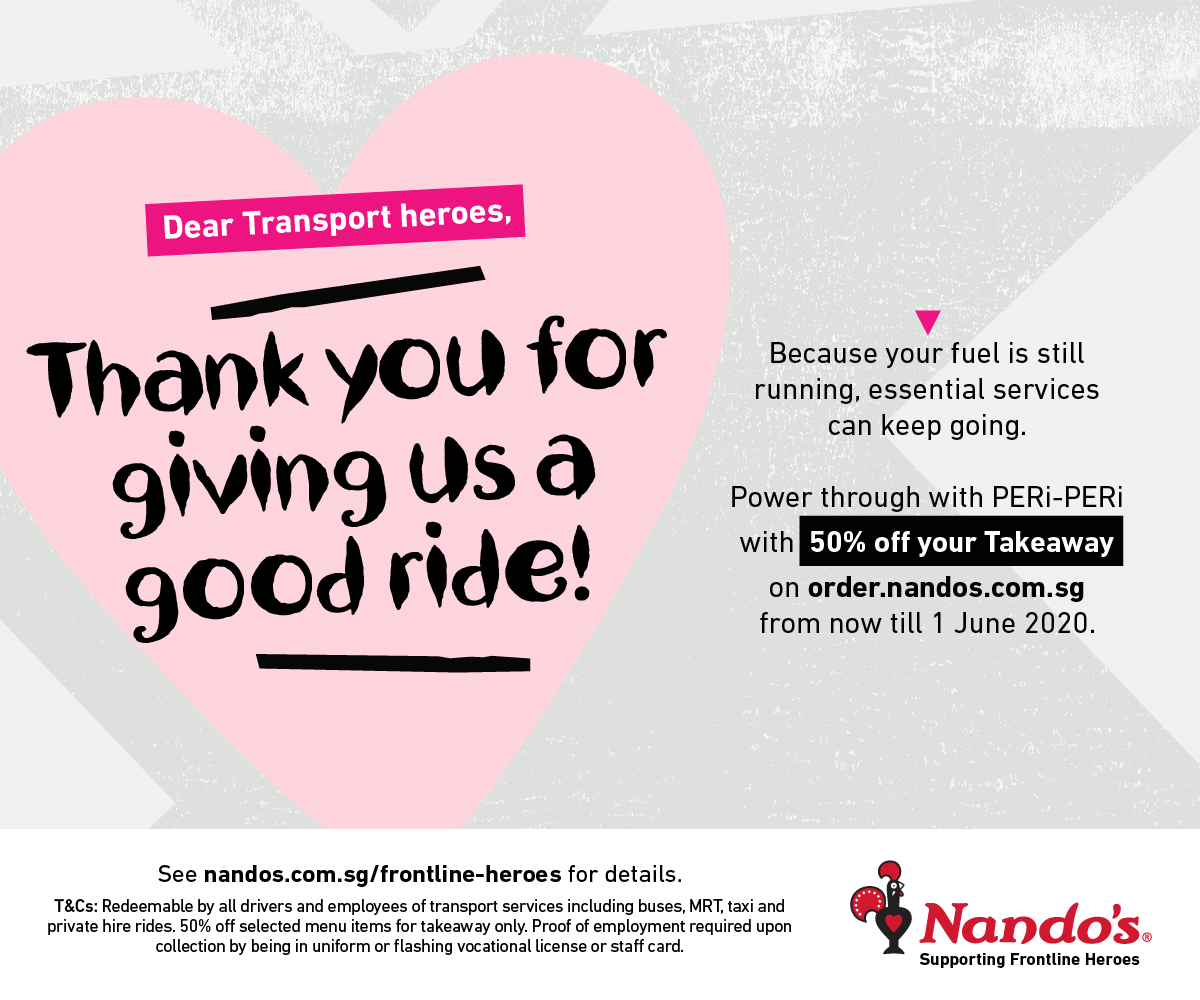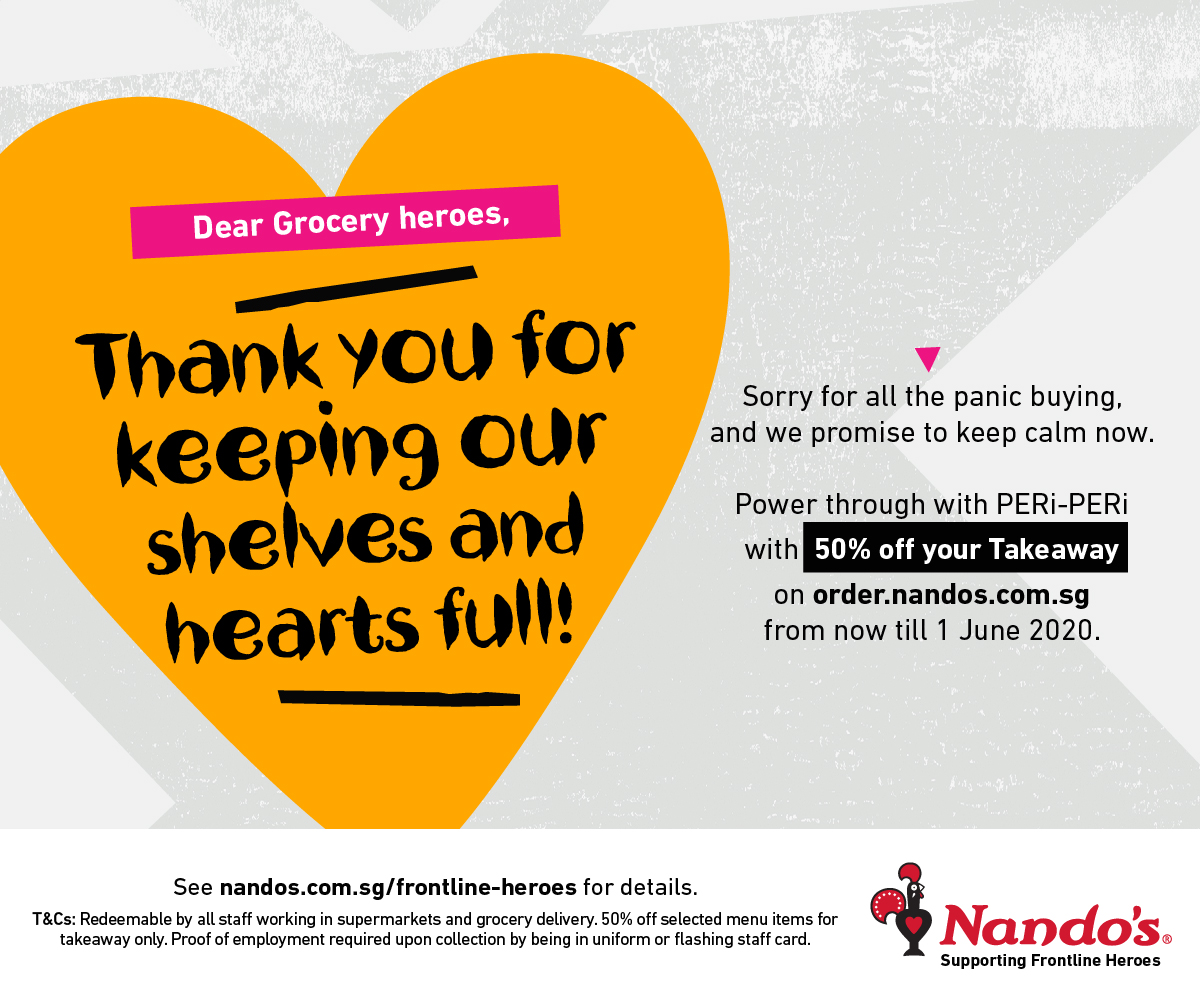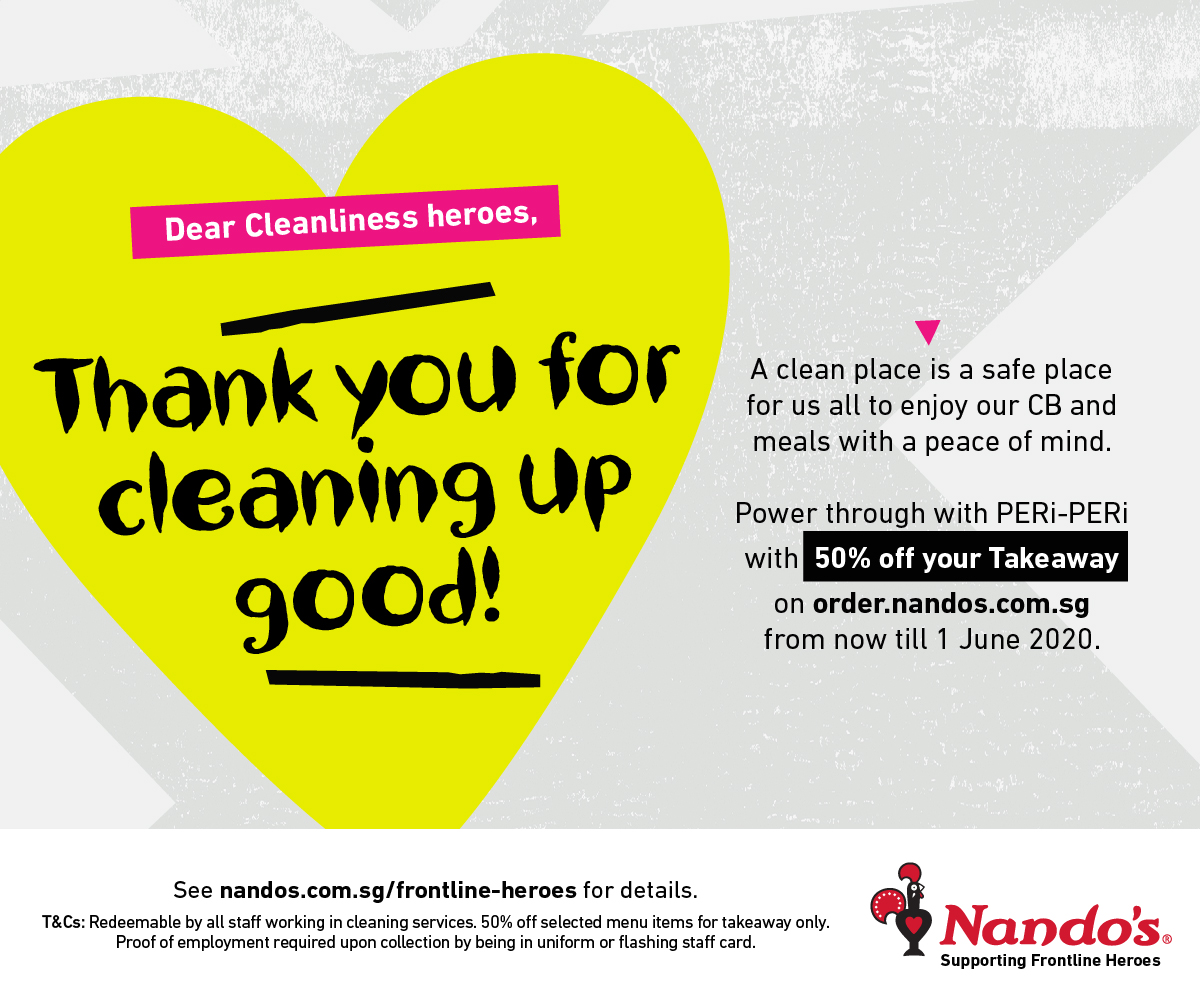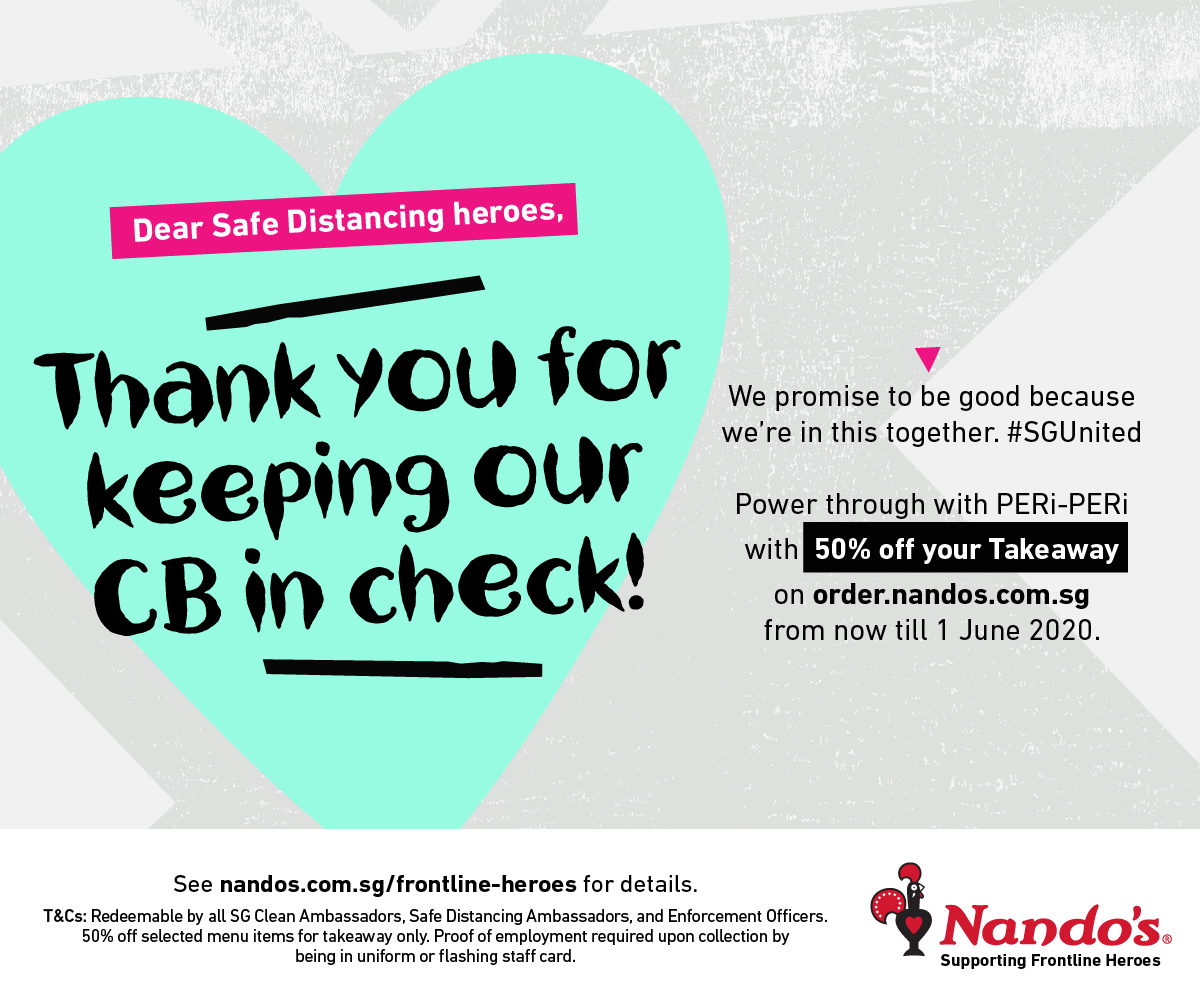 What is Nando's doing to support your employees?
At Nando's, we're a Family and we call our people Nandocas. Taking care of our Nandocas' health and financial stability is our top priority. All Nandocas who work full-time and those part-timers who have contracted hours will continue to receive full pay throughout this Circuit Breaker period. They receive staff meals when they are working, and if any of them are staying safe at home they will still be entitled to their staff meal. We have also enhanced the existing Family Discount to 50% for all Nandocas so they can take home meals for their loved ones.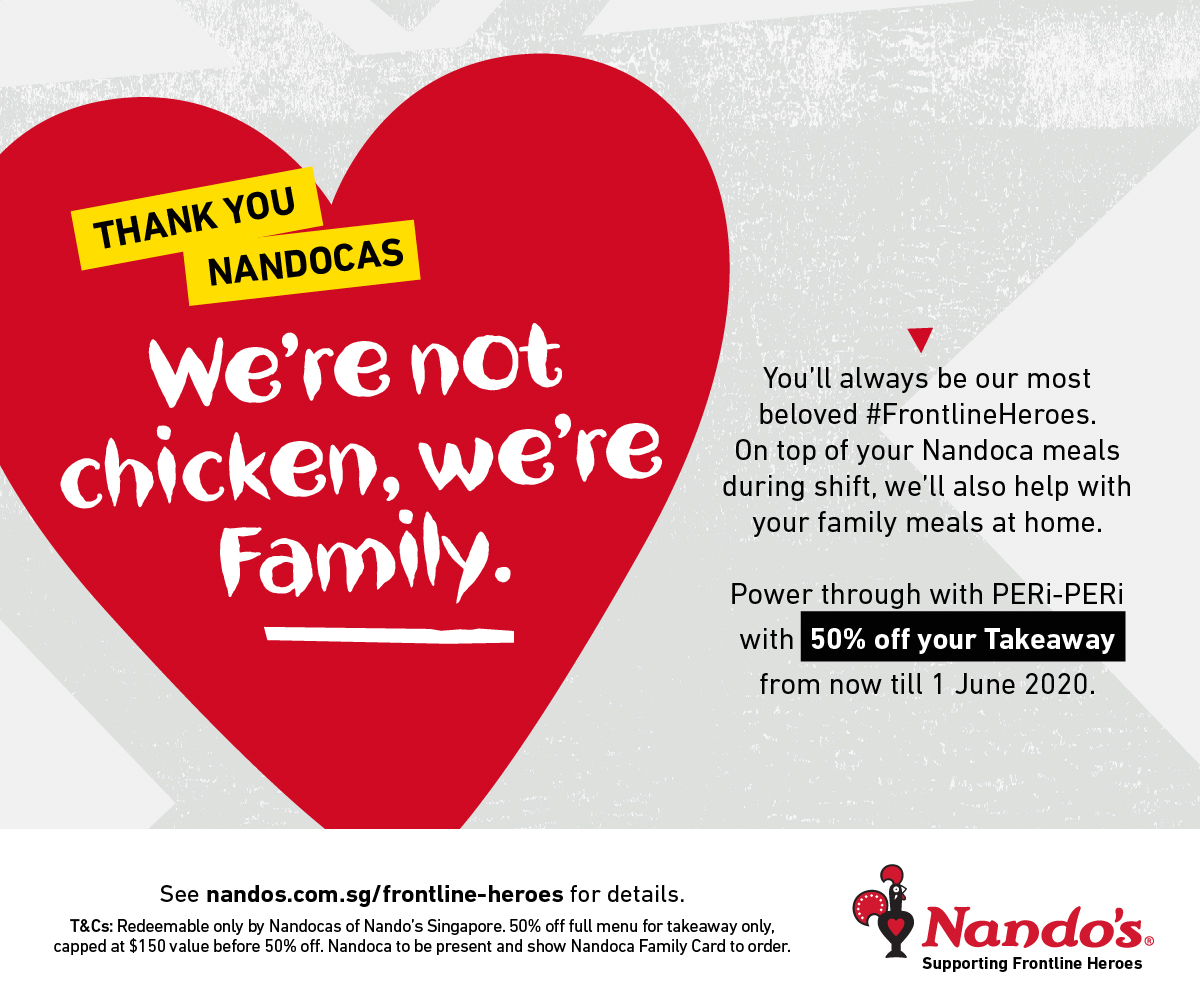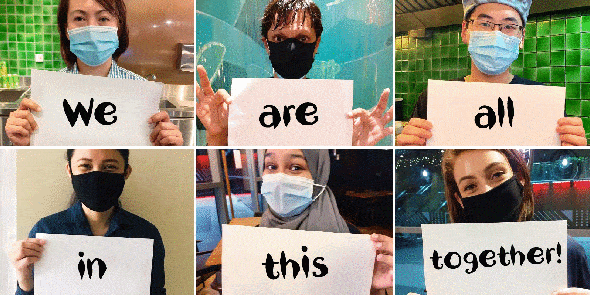 Together, let's cheer on our Frontline Heroes to #KeepTheFlameBurning
Our Nandocas, social media fans, and loyalty members have shared their well-wishes for a lil Labour Day Tribute!
If you're a Frontline Hero, read more here and we hope this sends a smile to your face and some love to your hearts.
Or if you'd like to also share your encouragements, click here to share your words and we'll update the site periodically.